Eagle Nation Collective: New organization to help Georgia Southern student-athletes with NIL opportunities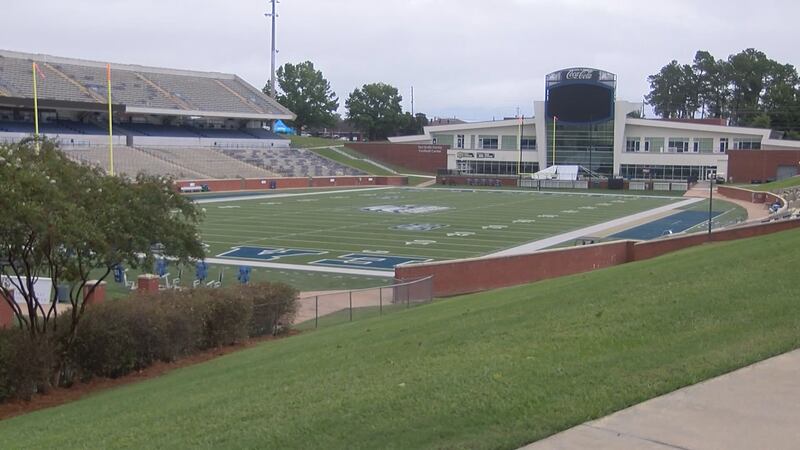 Published: Jul. 18, 2023 at 11:27 AM EDT
STATESBORO, Ga. (WTOC) - Georgia Southern University has announced a partnership with a group to help link fans and businesses with student-athletes for Name, Image, and Likeness (NIL) opportunities.
Eagle Nation Collective, while not directly affiliated with Georgia Southern Athletics, will operate within NCAA, Sun Belt and State of Georgia parameters to enhance opportunities for Eagle student-athletes, according to a news release from the university.
"Georgia Southern Athletics continues to prioritize and increase its overall support for our student-athletes, including maximizing their NIL opportunities," Director of Athletics Jared Benko said in prepared statement. "The Eagle Nation Collective is another opportunity for our fans, donors and alumni to support our student-athletes in their NIL-related activities while at Georgia Southern and when their careers are finished. We fully support the Eagle Nation Collective."
The collective was created by 20 Eagle supporters and previous athletes.
"NIL is a huge advantage for student-athletes," said Kyle Vantrease, former Georgia Southern quarterback and Director of Business Development of Eagle Nation Collective. "I believe that while it changes the landscape of college athletics, the best thing it does is change young athletes' lives. If NIL had been around my entire collegiate career, it would have helped me immensely. It would have taken the pressure off of my parents to have to pay for everything for me. Because of the rigorous schedule of being a student-athlete, I could not get a job to pay for various expenses. Things like car insurance, car repairs, new clothes, etc., were not things I was regularly able to afford, and I had to rely on my parents or consider taking a loan. Not only that, but I would have enjoyed my experience more and connected with other student-athletes and community members by giving back and paying it forward."
To learn more about the Eagle Nation Collective, please click here.
Copyright 2023 WTOC. All rights reserved.