Harman matches British Open records at Hoylake to build a big lead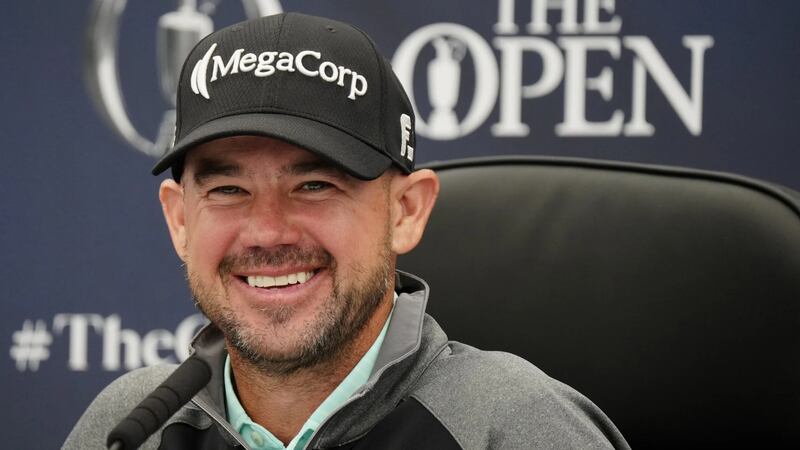 Published: Jul. 21, 2023 at 4:15 PM EDT
HOYLAKE, England (AP) — Brian Harman found himself in elite company through two rounds at Royal Liverpool, tying the 36-hole record also held by Tiger Woods and Rory McIlroy. Even better was having no company at all atop the leaderboard Friday in the British Open.
Harman seized control early with four straight birdies, and saved his best for the final hole. He ripped a 5-iron to 15 feet for eagle, giving him a 6-under 65 and setting a daunting target for Tommy Fleetwood and everyone else in the afternoon to catch.
The 65 matched the lowest score for Royal Liverpool, which is hosting the Open for the 13th time. He was at 10-under 132, the same score Woods in 2006 and McIlroy in 2014 had when they went on to win the claret jug.
Harman cared only about a little food, a little sleep and not thinking about much more.
"I've had a hot putter the last couple days, so try to ride it through the weekend — 36 holes to go, so try to rest up and get ready," Harman said.
Fleetwood, who shot 5-under 66 in the opening round for a three-way share of the lead, played in the afternoon.
No one from the morning wave was remotely close, McIlroy included.
Min Woo Lee (68) and Shubhankar Sharma (71) were next at 3-under 139, followed by a group that included Emiliano Grillo (74) at 140.
McIlroy was hopeful of riding the momentum from his par save from the pot bunker on the 18th on Thursday evening. He figured a score in the 60s would get him right in the mix, and he opened the second round with a birdie. It never got much better, or much worse. A birdie on the final hole gave him a 70 and left him nine shots behind.
McIlroy saw that more as credit to Harman than anything he did wrong. The course remained tough, even though the R&A chose to rake sand in the bunker toward the edges to keep golf balls from rolling next to the edges of the steep, vetted sides.
"It played tough — it played really, really tough," McIlroy said. "Ten-under par is unbelievably impressive out there. We'll see what the weekend holds. But after two days I'm actually pretty happy with my two days' work."
At least he has two more days.
Dustin Johnson shot an 82, his worst score in a major since the final round at Pebble Beach that cost him a chance in the 2010 U.S. Open. Justin Thomas rebounded from his 82 with a 71 that was all about momentum — he is playing next week in Minnesota as he tries to qualify for the PGA Tour's postseason.
That's what made Harman's round so impressive. A pint-sized lefty with Georgia grit, Harman has done the best at keeping the ball in play — on grass, not pot bunkers — and he has made only one bogey through 36 holes.
His start got everyone's attention — birdie putts from 20 feet on the second, 25 feet on the third, 18 feet on the fourth. And then he went long on the par-5 fifth, only to watch his chip bang into the pin and stop inches away for the easiest birdie of all.
He also chipped in for par on No. 12 when he had to hit backward from a fairway bunker, and his two par saves on the 16th and 17th set him up for his big finish.
Harman had the 54-hole lead at Erin Hills in the 2017 U.S. Open, only to close with a 74 as Brooks Koepka blew past him to win the first of his five majors. Harman says he was guilty of thinking too much about the lead, a mistake he hopes not to repeat.
McIlroy can speak from experience. He lost a four-shot lead in the final round of the 2010 Masters. The last time at Royal Liverpool, he was four shots clear of the field going into the weekend and no one came particularly close.
Asked about the pressures of leading, McIlroy said it was all about not thinking too far ahead.
"Not thinking about what could happen or what should happen or what you're going to drink out of the claret jug," McIlroy said. "You just have to stay in the present and stay in the moment. Brian is a pretty laid back unflappable sort of a guy, so I think he'll be OK."
Most surprising to Harman, who is No. 26 in the world ranking, is that he hasn't won in six years and only has two PGA Tour titles. He hasn't contended in a major since the 2017 U.S. Open, and registered only one other top 10, a year ago at St. Andrews.
Copyright 2023 WTOC. All rights reserved.