Defective: Dangerous consumer products find their way into America by ship and through online retailers
A small federal agency is charged with stopping these products before they reach consumers
Published: Aug. 28, 2023 at 3:04 PM EDT
MINNEAPOLIS, Minnesota (InvestigateTV) — For nine months, a Chinese company sold hundreds of illegal pool drain covers on Amazon to American consumers. Those covers were similar in design to one that contributed to the death Abbey Taylor.
Congress passed a law in 2007 banning drain covers that lay flat against a pool because they don't protect swimmers from the powerful suction of drains that can entrap them. The law was inspired in part by Abbey, a 6-year-old who sat on a drain in a public kiddie pool and endured a ghastly injury. The suction pulled her buttocks against the drain, and the force of that intake sucked out her small intestine.
In 2022, when the U.S. Consumer Product Safety Commission found the illegal pool drain covers for sale, it told the manufacturer to stop selling them and asked it to recall the 900 or so sold. The manufacturer complied.
But InvestigateTV could not find a recall for a different illegal pool drain cover being sold in 2021 on eBay by a New York-based company, despite CPSC's notification of the violation and a request for recall.
Every year, the CPSC finds thousands of everyday household products for sale online or arriving at shipping ports that fail to meet federal safety standards. It is illegal to sell products in the U.S. that have been banned, recalled or failed to meet federal safety standards.
Between 2017 and 2022, the CPSC found violations with more than 14,000 products that were either for sale online or found at a shipping port, an InvestigateTV analysis of its data shows.
When it finds violations, the CPSC asks companies to either stop the sale of the product, correct the defect in future productions or recall the product.
Of the violations found over that 6-year span, the CPSC requested recalls of more than 900 products ranging from bikes and toys to clothing and pool drain covers.
InvestigateTV could not find a recall for about half of those products.
It's a situation that frustrates CPSC chairman Alexander Hoehn-Saric. His small staff can't be everywhere, and federal law handcuffs the agency because the CPSC cannot issue recalls on its own without a lengthy court challenge.
"We have the limited resources of the agency," Hoehn-Saric said. "We do the best that we can do."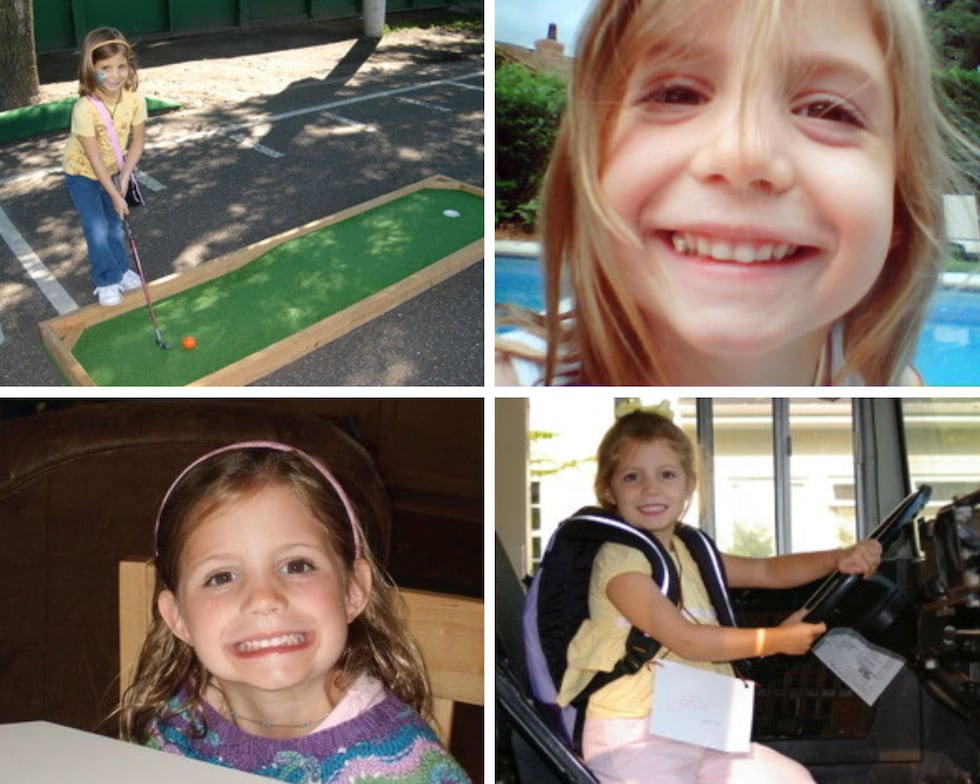 Abbey Taylor's father, Scott, is disheartened that illegal pool drain covers have been sold to U.S. consumers.
As she battled for her life, Abbey talked to some members of Congress about the need for a ban on those flat covers.
"She's like….'I don't need a whole long lifetime to make my difference.' She made hers in six years," Mr. Taylor said.
Tragedies led to successful pool safety law
For nine months after the pool incident, Abbey underwent 16 surgeries, multiple organ transplants and a host of other medical challenges and emergencies.
Her parents learned that what happened to Abbey was not an anomaly. Others, too, had died because of the pool drain suction.
In fact, Abbey was one of 74 people who were victims of pool drain entrapment between 1999 and 2007; nine of them died, CPSC data shows.
Her parents also learned about a pool safety bill that had been languishing for years in Congress. That bill was named for 7-year-old Virginia Graeme Baker, who drowned when she became entrapped by a hot tub drain in 2002.
Abbey's ordeal gave new life to the measure. It took effect in 2008 and required that pool drain covers be raised to prevent creating a suction seal and required all pools and hot tubs – except those in private homes – to be equipped with the new design.
It also banned the sale of flat pool drain covers in the U.S.
Since then, there has not been a single recorded entrapment death involving pool drains in the U.S.
But Taylor fears that his years of work on pool safety through the nonprofit Abbey's Hope could be undone with illegal drain covers creeping into the U.S. market through online sales.
"If this product is illegal in the U.S., you shouldn't be able to buy it," he said. "I'd like the companies to handle it. But if they don't handle, then you've got organization . . . like the CPSC, and they can get involved."
Finding products that don't meet federal safety standards begins at the border or online
The CPSC's first line of defense is at the border.
"Anything that we are seeing at the ports that's a violation, we're seizing to make sure that it's not reaching U.S. homes," Hoehn-Saric said.
The CPSC gave InvestigateTV a rare look inside its operations at a port in New Jersey and at a testing facility in Rockville, Maryland, where products are analyzed to ensure that they are safe.
CPSC works in concert with U.S. Border Patrol and Protection and spends a lot of time investigating manifests before the shipment reaches the port, Hoehn-Saric said. The agency has inspectors at 24 ports along the coasts.
"We target what we view as the highest risk products coming in and so are able to prioritize what we think will potentially cause the most harm to consumers," Hoehn-Saric said. "But at the end of the day, there's so much commerce in this country, so much coming into the country, that it is difficult to view everything."
He said with the agency's limited resources that it's impossible to catch everything.
In May, when a container arrived at a non-descript warehouse not far from the port, CPSC employees checked the cargo for violations.
One container held nothing but cribs. Another container was set aside for testing to ensure that it met the mandatory safety and design standards.
Another container held an assortment of stuffed toys. This container was trickier to clear, said an employee who didn't want to be named, because the products were not identical. A sample of each would need to be tested.
When defective and dangerous products are found, border patrol seizes them and the CPSC sends violation letters to the manufacturer and/or importer.
InvestigateTV analyzed the CPSC violations' database of the 931 companies where the agency requested a recall between 2017 and 2022 and found that many of these foreign importers had U.S.-based addresses listed.
A Google map search showed that 368 of those addresses were to warehouses or office buildings and 97 belonged to a house or apartment.
But some of the addresses were tied to unconventional locations.
For example, the CPSC sent a violation letter to the maker of a bike helmet, with an address that belongs to a batting cage in Parker, Colorado. The violation letter sent to a company about inflatable toys with lead was addressed to a storage unit in Lexington, Kentucky. The makers of wintergreen-scented essential oil were sent a violation letter to a church in Provo, Utah.
Other letters were sent to addresses tied to a gym, a gas station, an art studio and a bank.
"A lot of the companies that we see on the imports coming in are not American companies," Hoehn-Saric said, meaning they aren't U.S.-based companies that outsourced production overseas. "We're seeing in the e-commerce space as well. . . You think you're buying is from somebody else but really it's a fly-by-night seller coming in from overseas."
Lead violations on children's products accounted for more than 5,000 notices of violation in the last decade. Watch the video below to learn how to test for lead in household items, including toys.
Illegal and banned products sometimes easily found for sale online
Policing online retailers for defective products oftentimes is trying to drain the ocean with a teaspoon. As soon as the CPSC forces one illegal product off, another pops up.
"We've seen things online by a seller that we know have killed a child before. We have flagged it for the platform. And then a week later, we see the same listing under a slightly different name on the platform," Hoehn-Saric said. "And again, we tell the platform they take it down, but that game of Whack-a-Mole has to stop. And the platforms are really in the best place to be able to do that."
InvestigateTV found that over a dozen of those products that the CPSC flagged for violating safety standards — ranging from bike helmets and outdoor equipment to essential oils — are still available for purchase through major online retailers. Essentially, those companies ignored the directive from the CPSC to halt sales.
In January 2022, InvestigateTV found about a dozen illegal pool drain covers for sale on both eBay and Amazon. This past March, the CPSC issued violation letters to one of those companies – Mumusuki, based in China.
The company put a notice of the recall on its Amazon page, but in August, InvestigateTV found a Mumusuki pool drain for sale with photos that looked the same as the recalled product.
InvestigateTV purchased one of those drains for $26.90. When it arrived, the drain appeared to be the type that has been banned and recalled.
And it did not have any of the embedded stamps required by the law to indicate it met safety standards.
Through Amazon, InvestigateTV contacted the seller, which listed Mumusuki as one of its brands, to alert the company of the similarity. The vendor first said it could not locate the order number or date of sale, then said it was the wrong company, and finally said they could not see the product link on their own site and wrote, "i have no way to help you. best wishes."
The package's return address traced to a non-descript shipping warehouse in New Jersey, where it likely entered the U.S., while the company's Amazon page had a Chinese address.
CPSC said it was unable to comment on that – or any – particular listing or investigation. As of publication, the drain remains for sale on Amazon.
Since last September, the CPSC has issued recalls for seven pool-drain covers that agents found for sale on Amazon from China-based sellers because they violated the Virginia Graeme Baker safety law.
Collectively, those retailers sold nearly 7,400 illegal pool-drain covers in the U.S. in the past two years.
An Amazon spokesperson told InvestigateTV via email, "We require all products offered in our store to comply with applicable laws, regulations and Amazon policies. We continuously monitor our store, and if we discover a product was undetected by our automated checks, we address the issue immediately and refine our controls. We take action to maintain a safe selection for our customers, including removing noncompliant products, and outreach to sellers, manufacturers, and government agencies for additional information, when appropriate.
If customers have concerns about an item they've purchased, we encourage them to contact our Customer Service directly so we can investigate and help resolve their issue. We also protect every purchase in our store with our A-to-z Guarantee, if a customer receives a product that is not in the condition expected, Amazon will refund or replace that item."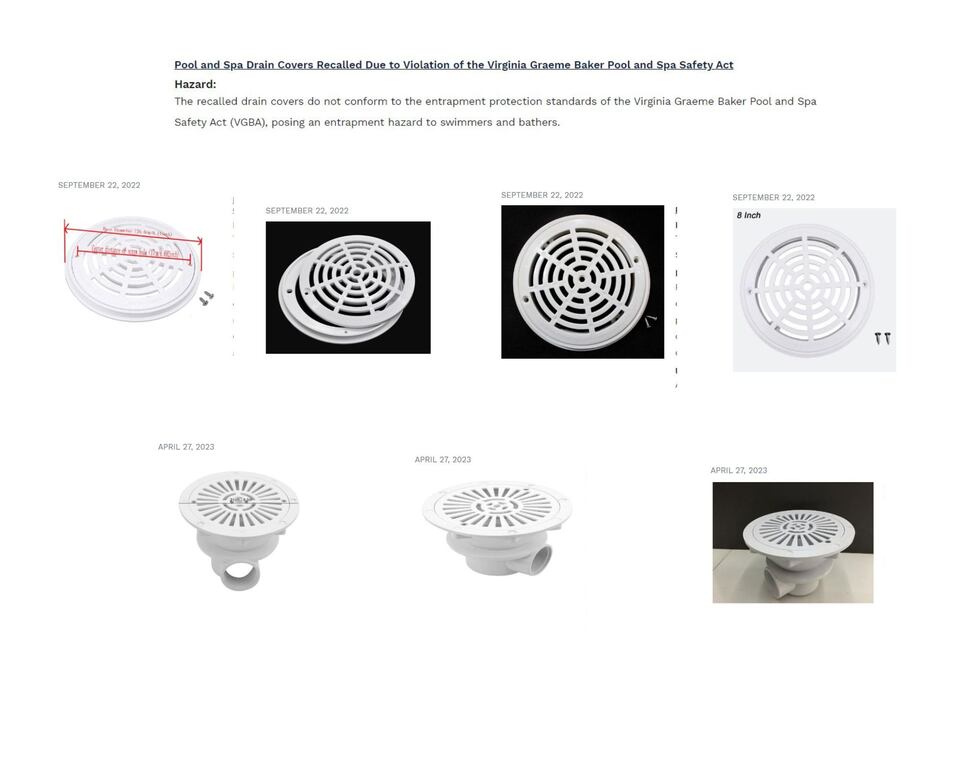 A company that sold pool drain covers on eBay and received a violation letter last year did not comply with the CPSC's request for a recall, agency records show. It's unknown how many of those illegal covers were sold to U.S. consumers.
Online retailer eBay said in a written statement to InvestigateTV that it aggressively monitors its website for violations and last year blocked millions of listings.
Yet flat pool-drain covers sold by China-based companies also were for sale on eBay in August 2023.
"eBay works closely with a range of regulatory agencies across the world to promote product safety and protect consumers from unsafe products. We take product recalls very seriously and monitor announcements from the CPSC to ensure recalled items are blocked or removed," the statement says. "eBay actively enforces our Product Safety Policy using AI and image detection to proactively identify potentially unsafe products. eBay's product safety filter algorithms blocked 4.8 million listings in 2022."
When the seven illegal pool drain covers were recalled, the CPSC also requested that those companies send the notices to all e-commerce sites including Facebook Marketplace, Walmart and Etsy. It is unknown if the manufacturers complied.
A search for pool drain covers on Walmart's website immediately turned up results that appear to match photos from CPSC recalls in recent years. InvestigateTV sent Walmart links to multiple drain covers that appeared to have a design similar to those that had been recalled. In each instance, the company removed the listings within about 24 hours.
A Walmart spokesperson said in an email, "Like other major retailers, we operate an online marketplace that allows third-party sellers to offer merchandise to customers. These items were listed by third-party sellers and promptly removed from our site. Products that are subject to a recall violate our prohibited products policy. Walmart strives to maintain a marketplace that customers can trust, and we mandate that sellers promptly ensure all products sold comply with these policies."
To see examples of what safe pool drain covers look like and safety tips for kids, watch the CPSC video below:
Foreign importers thwart – and sometimes ignore – U.S. laws and CPSC directives
Another problem that the CPSC also confronts is trying to keep knock offs of recalled products out of consumers' homes.
Daniel Mann is a product liability lawyer in Philadelphia who has seen firsthand the consequences – he met a family whose infant died in April while sleeping on a newborn lounger pillow similar in design to the Boppy pillows that were recalled in 2021.
"Infants can suffocate if they roll, move, or are placed on the lounger in a position that obstructs breathing, or roll off the lounger onto an external surface, such as an adult pillow or soft bedding that obstructs breathing," the Boppy recall announcement said.
The Boppy Company said in the recall that it was aware of eight deaths tied to its pillows at the time of the recall.
"This Chinese company must have seen the Boppy lounger and basically copied it, and it's for sale on Amazon," Mann said.
The CPSC has not issued a violation letter against that company, its data shows.
However, in February, the CPSC sent a violation letter to a Chinese company that was selling another knock-off Boppy baby lounger on Amazon and other websites. In June, the CPSC issued a warning to consumers because that company refused to recall the loungers. "They do not comply with federal safety standards for infant sleep products, posing a risk of suffocation and a fall hazard to infants," the agency said in the warning.
Mann said online retailers need to do more.
"There is no way that an underfunded and understaffed CPSC can even handle the sort of work that they have on their plate, let along being involved as sort of a gatekeeper for the products coming into the United States," he said. "It's very easy for Amazon and other major websites to not carry certain classes of products. I think that that's the way it needs to happen as opposed to having people inspecting products as they come in."
'I don't want other kids to get hurt like I got hurt'
Scott Taylor also wants online sellers to take responsibility for products on their sites that are offered by third-party sellers – the ones that are peddling illegal and dangerous items.
With flat pool drain covers, for example, "They're not selling it in a store locally for your pool maintenance guy to just walk (in) and grab one of them," he said.
The whole purpose of the law "was to get them completely off the market, which we did from a retail standpoint," he said.
Safe pool drain covers all are stamped with "VGB," meaning that they meet the requirements of the Virginia Graeme Baker safety act.
Keeping these drain covers out of the U.S. honors Abbey's legacy.
"If you knew her, she was . . . always the life of the party. She was always the reason I wear pink," Taylor said. "As long as anybody's going to ask me and want to talk about it and will listen, I'll talk about it. I'll talk about her. It makes me sad sometimes, but it also brings her very much back to right here."
While in the hospital after the pool incident, Abbey told her parents they needed to alert others to the dangers.
"'I don't want any other kids to get hurt like I got hurt,'" her father recalled her saying.
"She was wise beyond her years," Taylor said. "She was an amazing, kind, thoughtful person."
Copyright 2023 Gray Media Group, Inc. All rights reserved.