Husband of Alaska Rep. Mary Peltola dies in plane crash
Published: Sep. 13, 2023 at 2:12 PM EDT
|
Updated: Sep. 13, 2023 at 3:49 PM EDT
ANCHORAGE, Alaska (KTUU/Gray News) - The husband of Rep. Mary Peltola of Alaska, Eugene Peltola Jr., was killed in a plane crash in southwest Alaska, according to Peltola campaign officials.
Eugene Peltola, known as "Buzzy," died early Wednesday morning, according to a press release from the Democratic lawmaker's chief of staff Anton McParland. He was 57.
The National Transportation Safety Board said in a statement that the pilot of a Piper PA 18-150 Super Cub was the only one on board when the plane crashed at 8:48 p.m. Tuesday.
The NTSB did not name the pilot, but Alaska State Troopers confirmed that Eugene Peltola was the pilot flying the plane.
According to authorities, the pilot flew a hunter to a remote location about 64 miles from the village of St. Mary's, which is located on the Yukon River.
The NTSB statement said the pilot dropped the hunter off at the remote area, took off on a return flight and "appears to have crashed in an area of remote, mountainous terrain."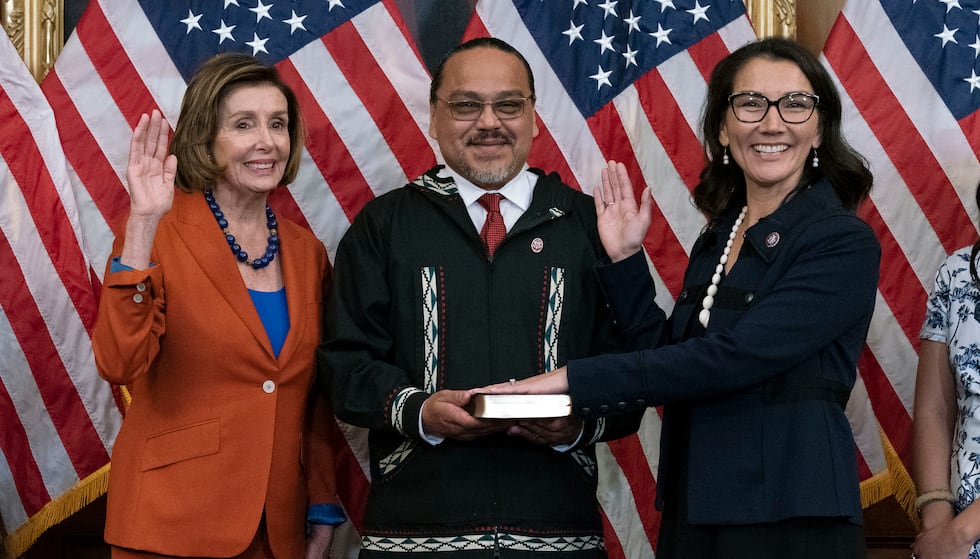 Troopers said two hunters who were at the site and witnessed the crash tried to help the injured Eugene Peltola while they awaited rescue, but he died before rescue teams could reach them.
The NTSB was unable to confirm in a news conference if the plane was for personal use or contracted for company use.
McParland said Mary Peltola will be returning home to be with her family, adding that the team will continue to meet with constituents and carry on work.
McParland's press release described the late Eugene Peltola as "one of those people that was obnoxiously good at everything."
"He had a delightful sense of humor that lightened the darkest moments," the statement read. "He was definitely the cook in the family. And family was most important to him. He was completely devoted to his parents, kids, siblings, extended family, and friends – and he simply adored Mary. We are heartbroken for the family's loss."
Fellow lawmakers across the nation shared their condolences with the Peltola family on Wednesday, including Alaska's two senators.
Sen. Lisa Murkowski said Eugene Peltola was "Mary's number one supporter and truly her rock" and that "Anyone who met Buzzy felt his warmth, generosity and charm."
Sen. Dan Sullivan posted that he and his wife, Julie, were "shocked and saddened beyond belief" after hearing the news.
Alaska Gov. Mike Dunleavy posted that "Gene's dedication to Alaska ran deep, and he will be dearly missed."
Rep. Hakeem Jeffries, D-N.Y., the minority leader of the U.S. House of Representatives, issued a statement of his own.
"I am deeply saddened to learn of the passing of Gene 'Buzzy' Peltola, the beloved husband of Rep. Mary Peltola and the devoted father and step-father of Conrad, Matthew, Job, Nora, Gene, Trevor and Kaeli," Jeffries wrote. "The entire House Democratic Caucus is mourning the loss of Buzzy and we are lifting Mary and the Peltola family up in prayer. We will be there for her in any way she needs during this unimaginable time of tragedy."
Rep. Suzan DelBene, D-Wash. – who serves as the chair of the Democratic Congressional Campaign Committee – also responded with a statement.
"The experience of losing a partner and loved one is one of immeasurable grief, which no one should have to endure," DelBene wrote. "I, along with my House colleagues and the entire DCCC family, am praying for Mary and her family."
The Alaska Native Claims Settlement Act Regional Association and its Board of Directors also extended its "deepest sympathies" to the Peltola family on Wednesday.
"Buzzy was a beloved husband, father, and friend to so many, making an impact on everyone he met," the association wrote in a statement. "He lived a life of service, dedicated to Alaska Native people and his home of Bethel through his decades-long career in federal service and his years of local government and Alaska Native corporation leadership."
The NTSB said an investigation team is on its way to Anchorage and will be working with the Alaska Air National Guard to reach the crash site via helicopter.
Additionally, the NTSB chair said they're investigating weather conditions, since the closest weather observation site is in St. Mary's.
A spokesman with the NTSB said a preliminary report on the crash will be ready in two to three weeks.
Copyright 2023 KTUU via Gray Media Group, Inc. All rights reserved.