'His work at WTOC was defined by compassion, intelligence, and kindness,': Rep. Carter honors Dal Cannady on House floor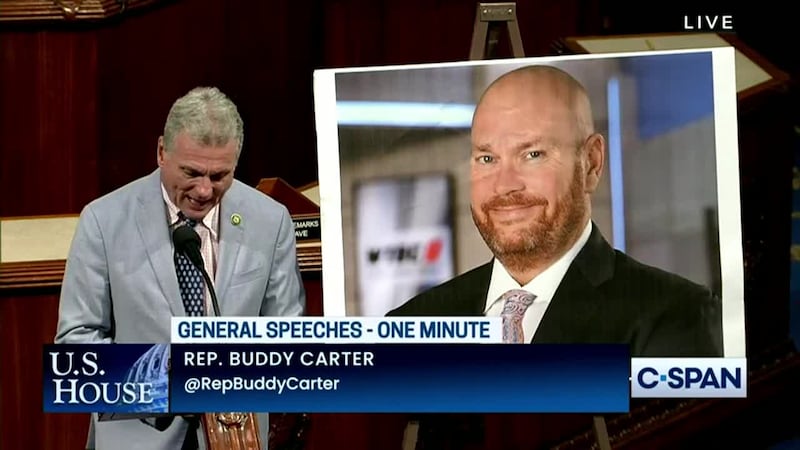 Published: Sep. 29, 2023 at 3:39 AM EDT
Washington, D.C. (WTOC) - As Congress gathered Thursday night in D.C. to discuss important issues, like the looming government shutdown, local Congressman Buddy Carter used his one minute general speech to address the house floor and honor Dal Cannady.
After nearly three decades with WTOC, Dal left to pursue a new career with Bulloch County. Representative Carter discussed Dal's impact on the community and his integrity in reporting.
"Mr. Speaker, I rise today to recognize Dal Cannady as he steps away from the WTOC news network for a new role as Communications Director for Bulloch County," said Rep. Buddy Carter, Georgia (R). "Mr. Cannady worked 27 years at WTOC providing fair and accurate coverage as WTOC's Bureau Chief. During his time at WTOC, he covered very important stories, such as, Fort Stewart in Hinesville having to fight the War on Terror, the tomato patch murder in Long County, the Santa Claus mini mart murder in Toombs County and many other stories. His work at WTOC was defined by compassion, intelligence, and kindness. WTOC labeled him as the person who knew things before anyone else, the person who knows who to call, and the person who knows how to ask tough questions respectfully. I know WTOC and their viewers will miss Dal's expertise, but we are thrilled to see him move on to a new role in the Bulloch community. Thank you, Mr. Speaker, and I yield back."
You can view a video of his remarks below:
Copyright 2023 WTOC. All rights reserved.