Proud to be a Farmer: Persimmons farming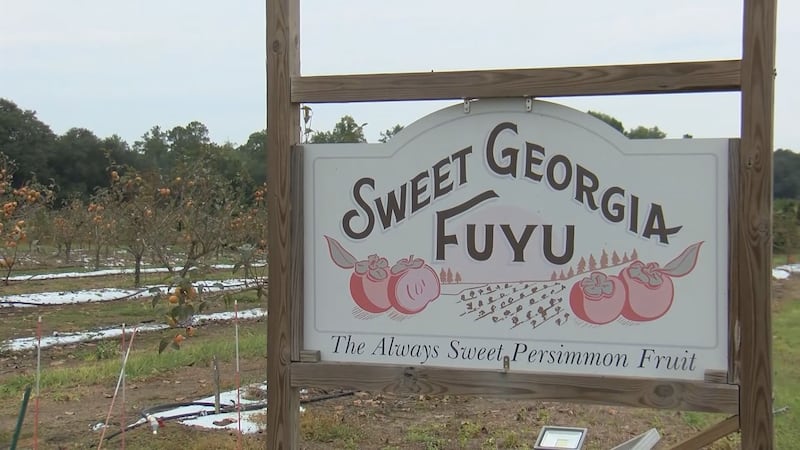 Published: Oct. 2, 2023 at 4:52 PM EDT
TATTNALL COUNTY, Ga. (WTOC) - Located a few miles outside of Glennville, you'll find the Sweet Georgia Fuyu Persimmons Farm.
"Yeah, know I'm from a 4th generation farming family, and I grew up on a farm," owner Tom Wirht said. "We had been farmers in California for years and we came out here, looking for a crop to grow and we always enjoyed farming."
"We wanted to grow something different from everything else being grown here. We thought that would be a fun challenge and we've really enjoyed it," Laura Potts-Wirht said.
For anyone who might be wondering, a Persimmon at its peak tastes sweet, mild, and rich, with texture similar to an apricot and skin a bit tougher than an apple.
"We'll sell the fruit to schools in the area, and I'll also attend farm days let the kids know more about the fruit and how we grow it," Potts-Wirht said.
Since 90 percent of U.S. persimmons are grown in California, the curiosity and demand remain high in Southeast Georgia. Luckily, the Persimmons "you-pick" season starts at the beginning of October and runs through Thanksgiving.
"To come out here as a family. They can come out and pick fruit, they could bring a picnic. We have picnic tables. They could go for a walk. People sometimes want to fish in the lake, you know we don't mind that. We encourage that, and really just to be out at the farm and enjoy it," Potts-Wirht said.
Plus, you can find them at the Forsyth Park Farmers Market most Saturdays in the fall.
Copyright 2023 WTOC. All rights reserved.