Former Vietnam War-era helicopter pilots reunite at Hunter Army Airfield
The Cobra Hall Reunion was held at Hunter for the first time Tuesday
Published: Oct. 3, 2023 at 3:56 PM EDT
|
Updated: Oct. 3, 2023 at 4:34 PM EDT
SAVANNAH, Ga. (WTOC) - It was a special day for former members of Cobra Hall at Hunter Army Airfield.
"It's amazing to be back with all the old friends," said Marine Corps Veteran Patrick Owen who trained at Hunter in 1969.
Friends who all at one point trained here on the AH-1G Cobra Attack Helicopter.
"All these guys back here remember the G model Cobra and they all remember Savannah, Georgia," says David Sale, and Army Veteran who was stationed at Hunter twice in his career.
Even if it's been a while.
"This was 1968, 69, 70 when all started flying Cobras," Owen said.
At the time it was cutting edge.
"When you fly the Cobra, you were flying a sports car," explained Sale.
And so were the men who flew them.
"We all used to be pretty hard charging warriors," added Owen.
Although the old Cobra G has long since been replaced by newer models, and so have their pilots, being back on base Tuesday, "it does make you bring back your youth a little bit," Owen said.
That is, "until you try and climb in the cockpit and realize your knees don't bend quite as easy as they used to," Owen joked.
While seeing the newest Cobra was great, seeing their legacy immortalized through a new historical marker, well, that's hard to compete with.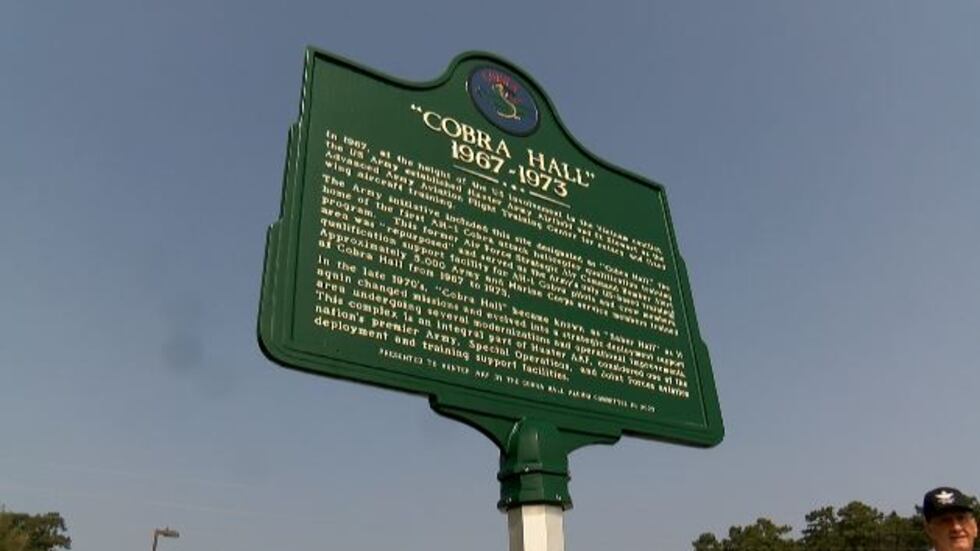 Of course, the day wouldn't be complete without a chance to see a familiar friend, thanks to a new one.
"A guy named Bob Butt is flying in. There's only four of those Cobra's left, the G's, and he's flying one in here for us," Sale says.
Naturally these former pilots couldn't help but give the Cobra a thorough inspection, from all angles.
"That's what you want to do. You don't want to just look at it you want to get the feel for it," Owen says.
Comparing what they remember and what they might wish was different.
So, although a lot has changed since their time in the skies, one thing seems to hold true for these former pilots, there's nothing quite like returning to home base. A trip they've never taken for granted.
"This is what it means to us to see all these guys, and their wives after 50 years," said Sale.
"There may not be a next year for some of us, we don't know, we get to that age. But, it is kind of fun to be back and be around the airplanes and things we grew up with," added Owen
This is the second year for the Cobra Hall reunion and the first one at Hunter Army Airfield.
Organizers say they are now hoping to add the Cobra Patch back on the former Cobra Hall building.
Copyright 2023 WTOC. All rights reserved.