Show names Zunzi's sandwich best of south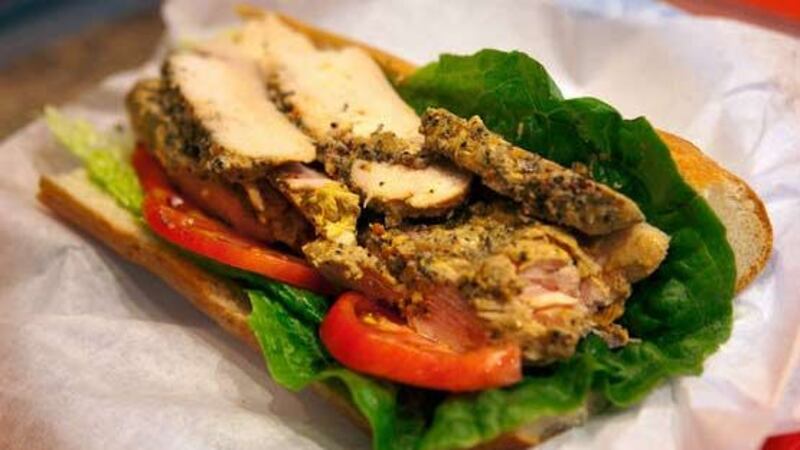 Published: Jun. 14, 2012 at 6:02 PM EDT
SAVANNAH, GA (WTOC) - A Savannah sandwich was named the best sandwich in the southern region by the Travel Channel's new show "Adam Richman's Best Sandwich in America".
The Chicken Conquistador sandwich from Savannah's popular takeout restaurant Zunzi's earned the distinction. It moves on to compete with sandwiches from nine other U.S. regions.
Richman picked 30 sandwiches from 27 cities in 10 geographical regions across the U.S. to be contenders in the ultimate sandwich competition. The show is an 11-episode weekly series with a one-hour finale.
Here's the Travel Channel's list of 30 sandwiches that are in the running for "Adam Richman's Best Sandwich in America":
Austin, Texas (The Noble Pig) – Seared Beef Tongue with Smoked Green Onions

Baltimore (Faidley Seafood) – Crab Cake Sandwich

Chapel Hill, N.C. (Time-Out Restaurant) – Chicken Cheddar Biscuit

Chicago (The Fifty/50) – The 4-Courser Sandwich

Chicago (Al's Italian Beef) – Al's Italian Beef

Detroit (Slow's Bar-BQ) – The Yardbird

Driftwood, Texas (The Salt Lick) – Sliced Beef Brisket Sandwich

Green Bay, Wis. (Kroll's) – Prime Rib Sandwich

Los Angeles (JR's BBQ) – Pulled Pork Sandwich

Minneapolis (Tilia) – Fish Taco Torta

Naples, Maine (The Galley Restaurant & Pub) – Zesty Lemon Lobster Roll

Nashville, Tenn. (Mitchell's Delicatessen) – Asian Flank Steak Sandwich

New Haven, Conn. (Book Trader Café) – A Tale of Two Turkeys

New Orleans (Domilise's Po-Boy and Bar) – Shrimp Po Boy

New York (Katz's Delicatessen) – Corned Beef & Pastrami Sandwich

Pittsburgh (Primanti Brothers) – Cap & Egg Sandwich

Philadelphia (DiNic's) – Roast Pork Sandwich

Phoenix (Los Reyes de la Torta) – Torta Del Ray

Portland, Ore. (Big Ass Sandwiches) – Big Ass Roast Beef Sandwich

Portland, Ore. (Bunk Sandwiches) – Pork Belly Cubano

Portsmouth, N.H. (Jumpin' Jay's Fish Cafe) – Crab Grilled Cheese

Richmond, Va. (Blacksheep) – The CSS Virginia

St. Louis (Crown Candy Kitchen) – Heart-Stopping BLT

San Diego (Phil's BBQ) – El Toro

San Francisco (Wexler's) – "Pulled" Lamb Sandwich

Savannah, Ga. (Zunzi's) – The Chicken Conquistador

Seattle (Salumi) – The Oxtail Sandwich

Tampa, Fla. (Aguila Sandwich Shop) – Media Noche

Tampa, Fla. (Skipper's Smokehouse) – Grouper Reuben

Washington (W Hotel) – Chicken Club Sandwich
Copyright 2012 WTOC. All rights reserved.