Georgia Ports Authority has a great year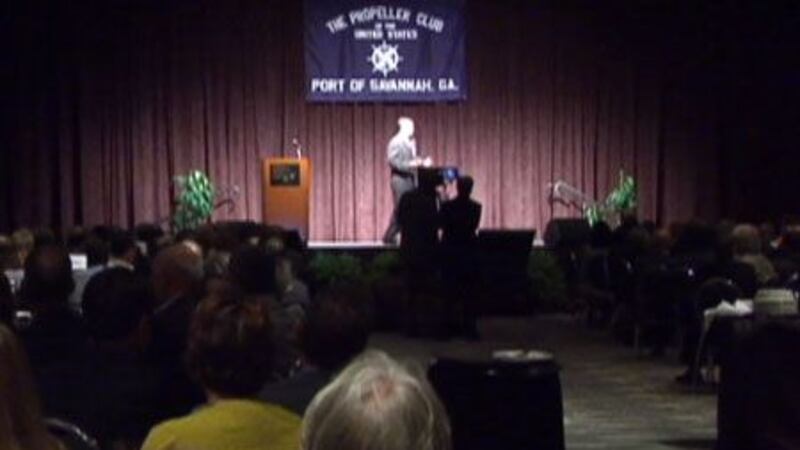 Published: Sep. 6, 2012 at 10:30 PM EDT
|
Updated: Oct. 6, 2012 at 1:46 PM EDT
SAVANNAH, GA (WTOC) - Georgia Ports Authority has experienced record cargo volumes, significant infrastructure improvement and continued environmental leadership for the 2012 fiscal year.
"This has been a great year for us," said Executive Director Curtis J. Foltz during his State of the Ports Address Thursday afternoon at Savannah International Trade and Convention Center.
The Ports of Savannah moved 2.98 million TEUs in FY2012, setting another record for container volumes. Additional accomplishments included an increase of 561,038 tons cargo moved, for a record total of 26.5 million tons. In auto and machinery units, Colonel's Island at the Port of Brunswick led the GPA to greater than 19 percent growth. Georgia Ports moved an all time high of 569,984 roll-on/roll-off units across all terminals in FY2012.
The Port of Savannah boosted the Savannah economy by supporting an 85.7 percent occupancy rate for local distribution centers in the calendar year 2011, out of a total 44.1 million square feet. The port added five new shipping services in FY2012, ending the year with the most weekly services to Asia of any port on the East Coast. Total vessel calls reached a record 2,916 in FY2012.
A new Highway 307 overpass, just outside the port's main gate was completed in FY2012. The new overpass routes cargo trucks over six-track expansion at one of Savannah's two on-terminal rail yards. The 6,000-foot rail extension at the Mason Intermodal Container Transfer Facility is designed to expand capacity, improve efficiencies and reduce costs for customers. The overpass and rail extension will provide even stronger freight handling via road and rail to and from the fastest growing region of the United States.
Other on-terminal improvements included the purchase of four new electric rubber-tired gantry cranes. The container-handling yard cranes will run on an electrical bus bar system, relying on diesel power only to move between container rows. In this way, the ERTGs will reduce their diesel consumption by at least 70 percent, saving energy costs and reducing noise and air pollution.
Twenty new refrigerated container racks were added in FY2012, for a total of 64 racks used to support poultry and other chilled produce exports. Powering more than 1,500 containers at a time, the electrified racks avoid the use of 3.4 million gallons of diesel each year.
The GPA also installed new container yard light fixtures that reduce light pollution and a lighting control system that cuts energy consumption by 30 percent.
The Port of Savannah won a federal grant to retrofit 11 locomotives with automatic engine stop-start devices that reduce idling and will cut an estimated 50,000 gallons of diesel consumption and nearly 18 tons of emissions each year.
The biggest news of the year, however, involved the Savannah Harbor Expansion Project. After a 15-year study, the U.S. Army Corps of Engineers has found the project to be environmentally and economically sound.
Foltz said, "The Corps has come out with an extremely strong recommendation on just how important it is for us here and honestly how important it is for the nation."
Congressman John Barrow, who represents Georgia's 12th District, said, "I'm working on my side of the aisle and my end of the building trying to generate support for this. It's not only good for Savannah, it's good for the entire region and it's also good for the other ports that are essentially riding our backs trying to get their ports deepened as well."
Final approvals regarding the SHEP are expected by this November, with construction on the four-year project possibility beginning in 2013.
Copyright 2012 WTOC. All rights reserved.