MCAS Beaufort welcomes back F35B squadron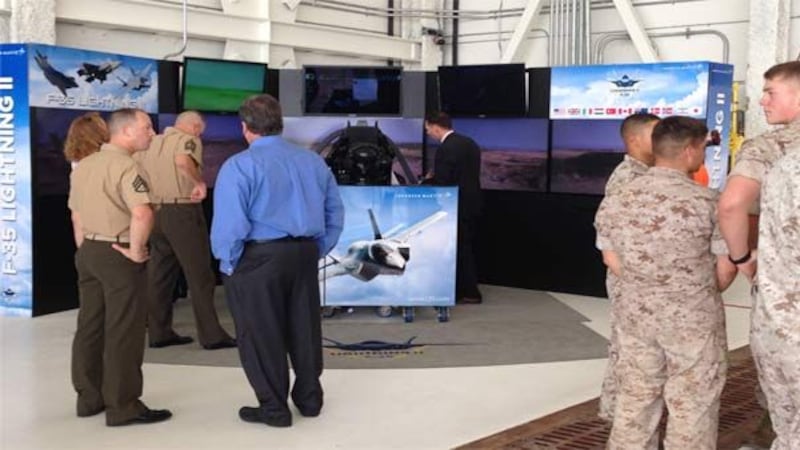 Published: Jul. 11, 2014 at 8:52 PM EDT
|
Updated: Aug. 10, 2014 at 8:16 PM EDT
BEAUFORT, SC (WTOC) - Friday marked a special day for the Marine Corps Air Station Beaufort as well as the future of Marine Corps Aviation.
The squadron, known as the VMFAT-501, will be responsible for flying what's considered to be the most technologically advanced aircraft.
About 180 Marines will mkae the transition from Eglin Air FOrce Base down in the Florida panhandle back to Beaufort to be part of the F35B program.
The VMFAT-501 Warlords were previously stationed at MCAS Beaufort from 1963 to 1997 under its former title as "Marine Fighter Squadron 451."
"A humbling experience to be so welcomed here in Beaufort and being the first chapter of the F35 in the state of South Carolina in Beaufort…a lot of pressure to succeed! We're really planning on making sure the F35 is successful for the Marine Corps and successful in our hometown of Beaufort, South Carolina," Lieutenana Colonel Ty Bachmann said.
The F35B is the world's first Supersonic aircraft with the capability of short take off vertical landing, or STOVL.
"So not only can we cruise at supersonic speed, our stealth encoding allows us to get closer to the enemy without him knowing and then recovery back aboard ship for the Marine Corps or at austere landing sights," Bachmann said.
It's been years of hard work from campaigning for the fighter jet to building this hangar. That amounts to more jobs and money poured into the local economy.
"To take care of parking the aircraft, working on the aircraft, that all requires a huge amount of labor, given the longevity of this program, it's going to be here for a long time," Major General Robert Hedelund, 2nd Marine Aircraft Wing said.
Beaufort is slated to receive at least two training squadrons and two operational ones. VM-FAT 501 will eventually receive 25 F35B jets with a total of 300 Marines dedicated to the program.
Beaufort will be the only training ground for the F35B which won't just be used for America's national defense.
"This has been developed for an international community, the joint part of this aircraft is allowing it to do surveillance as well as sort of air to air attack and ground attack as well so it's a multi-purpose aircraft which makes it the most useful aircraft that we as the UK can look to purchase," Beth Kitchen, Senior Engineering Officer, VMFAT-501 UK Detachment said.
The first F35B is scheduled to arrive in Beaufort within the next two weeks. 

Copyright 2014 WTOC. All rights reserved.