Adopt-A-Disability Day helps to spread awareness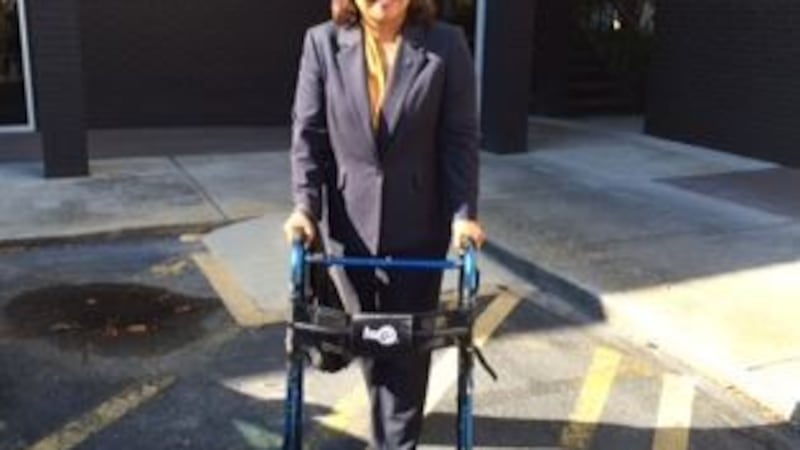 Published: Oct. 23, 2014 at 9:50 PM EDT
|
Updated: Nov. 22, 2014 at 10:50 PM EST
SAVANNAH, GA (WTOC) - When most of us want to go somewhere, we just get up and go.
But if you have a disability, that can be a struggle. The Savannah-Chatham Council on Disability Issues and Living Independence for Everyone selected me and 3 others to help spread the word. We spent only five hours trying to go about our day with a disability, but what we learned will last a lifetime.
Chatham Area Transit Chief Operating Officer Curtis Koleber wore goggles so that he could see what it's like for a blind person.
"Not being able to walk normally. I had a cane. It was great, but I still felt like I had to look for walls. Felt like I was going to hit myself in the face or trip. Outside was very challenging. Every imperfection in the ground, sidewalk I could feel," explained Koleber.
He said he felt useless at work on Thursday because his office isn't equipped for the visually impaired. His co-workers had to read his emails and letters and reply to everything for him that required a response in writing.
Savannah City Councilman Van Johnson gave up his independence too on Thursday. Sitting in a wheelchair opened his eyes to a different world.
"I noticed for the first time in my life that the road slopes on State Street," he said. "The sidewalk slopes ever so slightly. Walking it is fine, but in the wheelchair I'm finding myself sliding into the street. Becomes frustrating and panicked because I am realizing I do not have control of this wheelchair. I got caught in a manhole and nearly fell into oncoming traffic."
Chatham County Commissioner Helen Stone wore a pair of headphones so she would know what it's like to have a hearing impairment.
"It was very lonely," she said. "I could hear about every third word when someone was speaking. I found within the two hour meeting I had gotten so bored that I just wanted to get up and do something because I couldn't hear."
I thought I was lucky when I picked a walker. I had no idea how difficult it would be. Almost immediately I felt it in my arms and in my hands it felt almost like I have some arthritis beginning.
The scariest part was something I never thought about before; the ground changes throughout town and having to maneuver across broken bricks and cracked, uneven sidewalks and steep curb cuts.
These few short hours opened our hearts and minds even more and changed our way of thinking. Alderman Johnson summed it up best.
"First of all, I have to learn how to complain less and be grateful more. We have to find ways to enhance the lives of people who live around us whether we are affected or not."
It was a day we won't forget and hopefully we helped others understand the struggles many of our neighbors deal with everyday.
Copyright 2014 WTOC. All rights reserved.