Lowcountry man famous for wearing chicken suit cited for wrestling alligator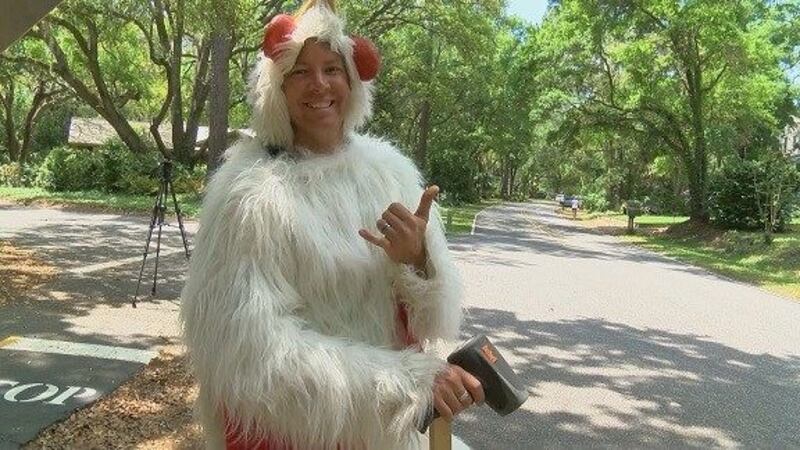 Published: May. 12, 2018 at 1:27 AM EDT
|
Updated: May. 14, 2018 at 12:09 PM EDT
HILTON HEAD ISLAND, SC (WTOC) - A Hilton Head man was cited by the Department of Natural Resources for wrangling and relocating a 10-foot alligator.
Most of you know Logan Cambron as the man who wears a chicken suit on Hilton Head Island to slow down speeding drivers. When a 10-ft alligator in the road could have also caused an accident, he didn't chicken out.
Cambron says law enforcement initially would not allow him near the gator. He then called Critter Management, a local pest control service. Cambron said the service told law enforcement he was equipped to handle the gator.
"The firefighter said 'it's your liability if you get injured. You're responsible for any damages that happen to anything,' Cambron said.
Cambron then mounted the gator, tied a piece of cloth around its mouth, and loaded it in his truck to take to a nearby pond on Arrow Road. He posted a heart-racing video to Facebook shortly after, advising others several times to not try this at home.
Today WTOC asked Cambron, "Why was it okay in your mind for you to do that, and not somebody else?"
"I've had experience with them, and some people were born to think inside the box and I'm just not one of them," he said.
Little did he know, he was breaking the law.
WTOC: "Did you know it was illegal to touch an alligator?"
Cambron: "Yes and no. I mean, I know it's illegal to just walk up to one at a pond and start messing with it. I thought, given the circumstances, I thought the animal in the area needed to be out of the way for public safety and it's own."
The Department of Natural Resources charged Cambron a fine of $105 instead of jail time. Greg Lucas, a spokesperson for the DNR said in this statement today:
"The takeaway is it is illegal to move or relocate an American Alligator without a permit. While he was well-intentioned, we are fortunate he and anyone else was not injured."
The gator is still in the pond, and after a few cuts and bruises, Cambron's gator-slaying days are over.
South Carolina alligators are in prime mating season this week. If you see a gator, the Department of Natural Resources asks you immediately call them at 803.734.4400.
Copyright 2018 WTOC. All rights reserved.