Truck driver killed, students injured in crash involving school bus in Alma, Ga.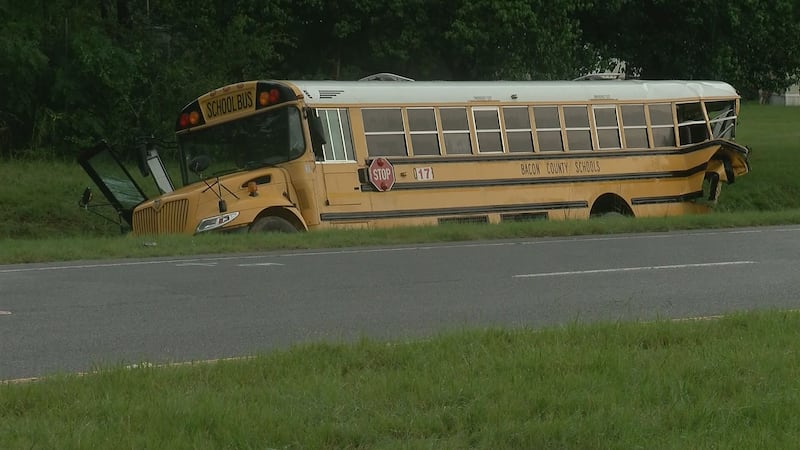 Updated: Aug. 13, 2020 at 11:41 AM EDT
ALMA, Ga. (WTOC) - A school bus was involved in a crash Wednesday afternoon on GA 4 near Sweet Gum Road in Alma, Ga.
According to Georgia State Patrol, a school bus carrying elementary through high school students was stopped and unloading students in the outside lane when a box truck rear-ended the bus. They say it happened around 3:38 p.m.
The driver of the box truck, 25-year-old Johnathan Grayer, of Jacksonville, Fla., was taken to the hospital where he later died, according to GSP.
Several students on the bus were taken to the hospital. GSP states there were 10 students on the bus at the time of the crash. Six were taken to the hospital; three to Shands in Jacksonville and three to the Bacon County Hospital, according to GSP. The bus driver was also injured and taken to the hospital.
The students were reported to have non-life threatening injuries.
Governor Brian Kemp tweeted his condolences to those involved.
GSP estimates the driver of the box truck was going between 50 and 60 miles per hour.
Georgia State Patrol Cpl. Shane Copeland says this was a high impact crash and troopers are trained to be very thorough and treat every accident as if a loved one was involved.
"We try to do the standard procedures on every crash and treat all crashes equally. However emotionally, you can't help but to think I've got three children and you can't help but to think of your three children on their bus back home and it does make it personal if that makes sense," Cpl. Copeland said.
Cpl. Copeland also says now that children are heading back to school, drivers should pay very close attention on the road.
The GSP Specialized Collision Reconstruction Team (SCRT) is conducting a follow-up investigation.
Copyright 2020 WTOC. All rights reserved.